The George Institute marks first ever World Drowning Prevention Day
Drowning is a significant issue globally, accounting for 7% of all injury-related deaths and is among the top 10 leading causes of death for 5-14 year olds. The World Health Organization (WHO) estimates that there are 236,000 drowning deaths worldwide each year, of which more than half occur in South-East Asia and the Western Pacific Region.
However, this global burden is known to be an under-estimation owing to gaps in reporting and categorisation methods for drowning by type (for instance, drowning deaths caused by flood disasters are excluded from official figures).  
The George Institute, through its  WHO Collaborating Centre on Injury Prevention and Trauma Care status,  works with partners around the world, conducts research to tackle the drowning epidemic. Through work that seeks to better understand the extent of the burden and social issues around injury prevention, as well as assessing how best to implement better safety interventions, the team help inform, influence, and advance global and national policy and public awareness.
To mark the inaugural, UN designated, World Drowning Prevention Day on 25th July 2021, The George Institute is organising and taking part in a several awareness-raising activities, from local to global level. For example:
Tune into this webinar on 29th July 2021 to hear researcher Medhavi Gupta highlight the challenges, progress, and next steps for effective drowning prevention in low- and middle-income countries (LMICS), with particular emphasis on findings from her PhD research in Bangladesh and India
Activities in the Sundarbans, India through the Child Parliament initiative, highlighting key policy asks of local government. Know more. 
Dr Jagnoor joins co-panellists for a WHO convened expert webinar Global, national and local reflection on World Drowning Prevention Day 2021 on 28th July. Find out more and to attend, register here webinar
The Institute's drowning prevention research covers many regions globally, focusing on children in LMICs, who are disproportionately affected by drowning, and risk being left behind by action to achieve internationally agreed  UN Sustainable Development Goal targets, that include ending preventable under-5 child mortality. Below we share examples of the Institute's work in this area, and – based on this evidence - the key actions needed to accelerate drowning prevention.
Tackling drowning in Bangladesh: the role of national and sub-national action
Project BHASA (meaning 'float' in Bangla) is a ground-breaking initiative to reduce drowning in Barisal division of southern Bangladesh. With a population of over 8 million, the division is one of the most vulnerable areas in Bangladesh, a nation which sees 72% of its land area submerged under water each year. The project has adopted a multi-stakeholder approach to test the theory that co-ordinated and comprehensive national and sub-national level responses drive significant reductions in drowning at national, and ultimately global level.
The initiative also evaluates evidence-based drowning prevention interventions including: SwimSafe (survival swim training for children aged 6-10 years), the provision of community-based day care (crèche) for children aged 1 -5 years (known locally as Anchals), flood rescue, community awareness and education in safe by-stander rescue and resuscitation, the provision of water safety education/lessons in schools, and early warning systems.
As an academic partner, The George Institute team collaborated with the Royal National Lifeboat Institution, UK, and the Centre for Injury Prevention and Research, Bangladesh on phase 1 of the project to generate evidence to inform the development of national and sub-national drowning reduction plans in other parts of Bangladesh.
Community at the centre of drowning risk mitigation in the Sundarbans, East India
A 2019 community-based survey of 860 000 population in the Sundarbans region of West Bengal, India, reported that there are nearly 3 drowning deaths among children aged 1-9 each day. The survey was conducted by The George Institute in collaboration with the Child in Need Institute (CINI), and funded by the RNLI.
Living in a rural, forested region, children in the Sundarbans are exposed to a high risk of drowning due to the waterlogged, low-lying geography of the local environment. The Ganges delta region (in which the Sundarbans is located), also experiences frequent flooding of major rivers due to heavy monsoon rain during April-September. The survey highlighted the need for more accurate and effective data collection on drowning deaths, harnessing community knowledge and community-based surveys, a validated method transferrable to other rural low- and middle-income country contexts.
Researchers also concluded that interventions to keep children in safe spaces away from water are urgently required. The World Health Organization, 2017 has identified four main interventions that can reduce drowning:
(1) the provision of barriers in the home to prevent young children accessing water;
(2) provision of childcare services where children are supervised in a safe space by a trained carer;
(3) swim and rescue training for children; and
(4) first responder training to adults on how to respond appropriately to drownings and rescue children properly.
Further work will seek to roll out programming that includes such interventions, within the Sundarbans.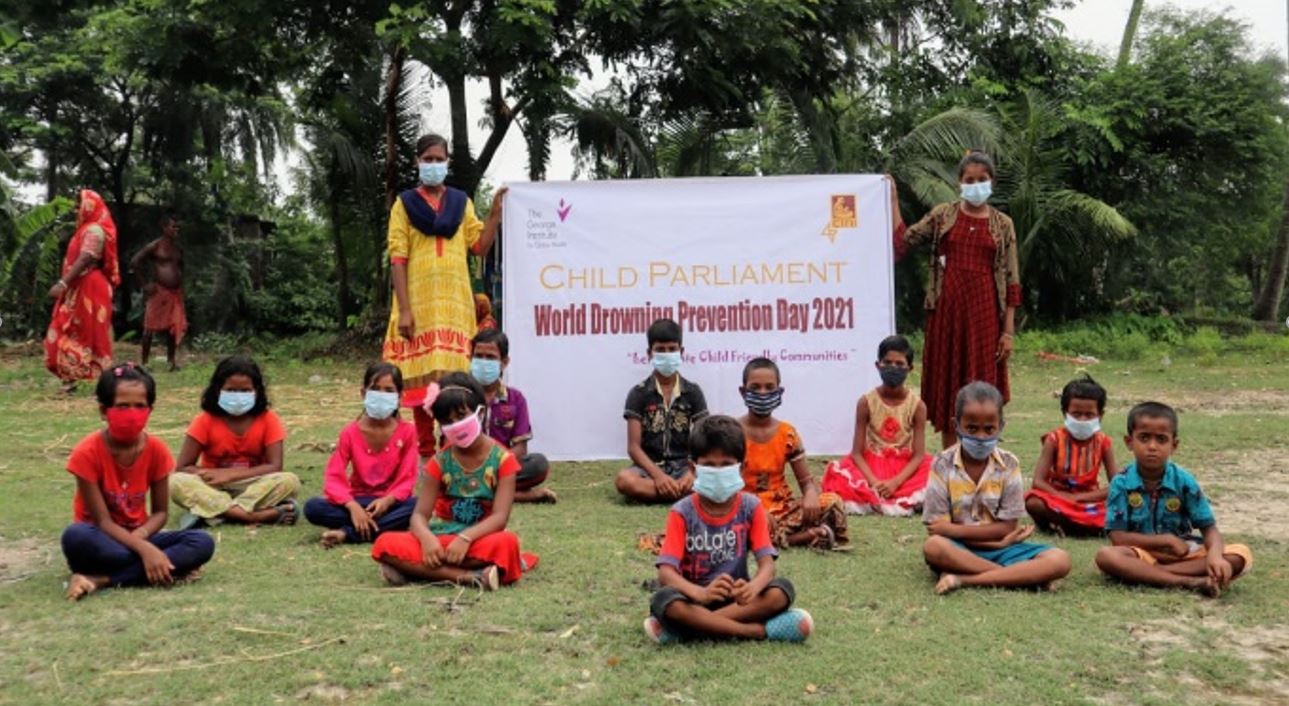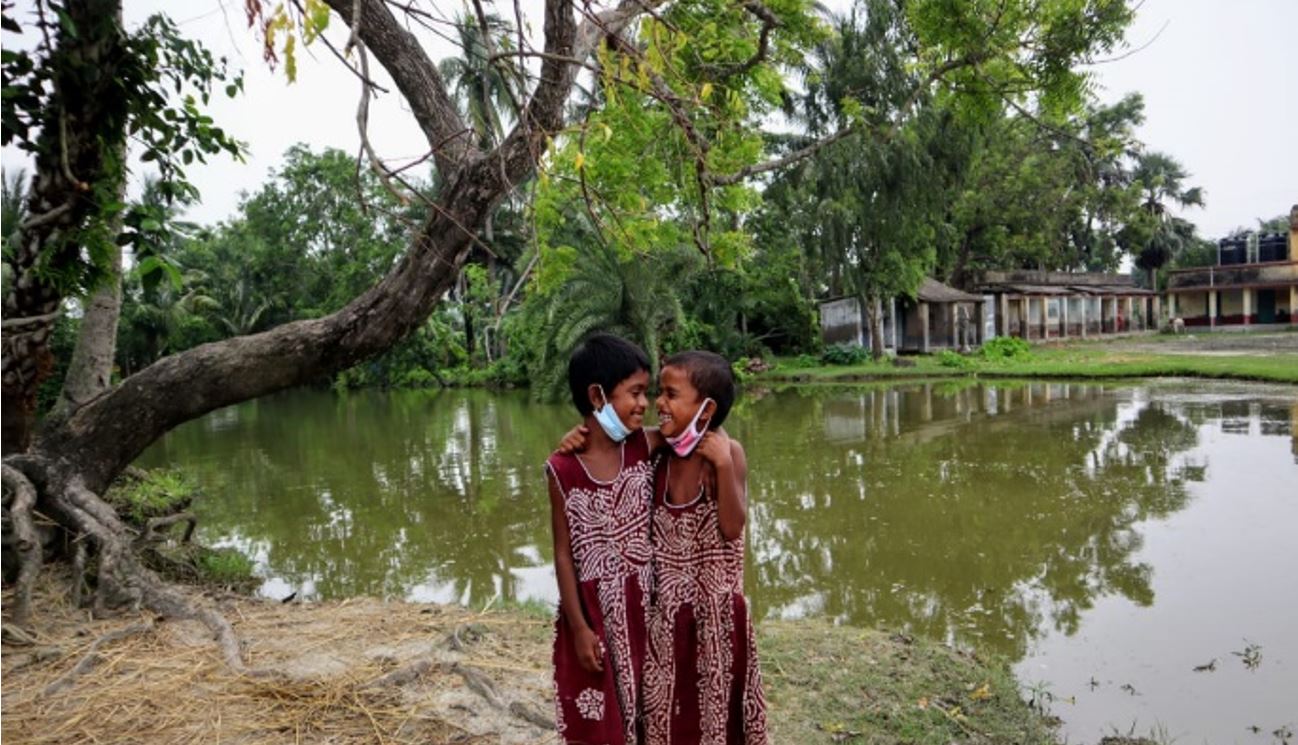 Marking World Drowning Prevention Day 2021 in West Bengal, India [Credit: Sujoy Roy]
The importance of understanding context in preventing unintentional child drowning in Jinja, Uganda
Researchers from The George Institute and the Makerere School of Public Health are conducting a multi-phase trial in Jinja, Uganda, that aims to reduce unintentional injuries, including drowning, among under-5s, in the home environment.
Initial findings from community interviews, focus groups, and market surveys, highlight that water sources and wet surfaces are high-risk sources of injury. Armed with this information, the research team are working with engineers to measure behaviour change and reductions in injuries following the implementation of a child safety kit, with proposed equipment to include barriers to limit unsupervised child access to water sources around the home environment. The equipment is supported with educational matter; for example, on strengthened supervision of young children.
The team hope that the intervention trialled in Jinja can be adapted for other low-income settings with a potentially significant impact on the burden of child injury.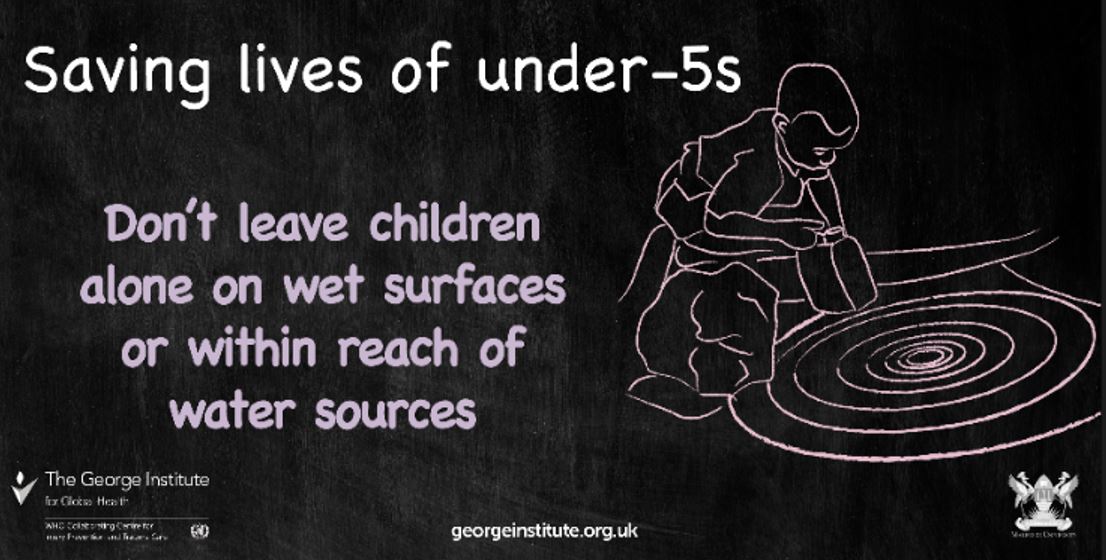 Examples of informational materials distributed among caregivers in Jinja, Uganda, based on photos of hazards provided by community members
Key actions to accelerate global drowning prevention
Building on evidence from the above research programmes, and knowledge sharing with partners, The George Institute outlines the following key actions to accelerate global drowning prevention:
Local data for global advances: National and sub-national empirical data is needed to quantify burden, identify diverse contexts of drowning, and inform the multi-sectoral response for implementing drowning prevention solutions, ensuring escalated reduction in global drowning deaths.
Co-developing sustainable solutions: Community acceptance, and the impact and sustainability of known and yet to be discovered drowning prevention interventions, policies, and programmes requires co-development with those most vulnerable to drowning.
Drowning within sustainable development: Mapping intersections with the UN SDGs, health, disaster, and climate agendas may recognise synergies and targets that reinforce the contribution drowning prevention can make to advancing progress in on these agendas and international priorities, providing co-benefits and/or identify gaps for further research. Action on upstream social, economic and environmental determinants of drowning may provide undiscovered systemic opportunities for prevention.
Multisectoral action: The diversity of sectors and stakeholders with core or passing, accepted or unrecognised interests presents a scenario with equal parts challenge and opportunity. Harnessing this need for multisectoral action requires top-down advocacy and bottom-up pragmatism. Engaging those most willing and able to act is only a starting point.
Global Strategy, Global Partnership: To strengthen cohesion, advance the field, and maximise impacts a global strategy of objectives, actions and targets is needed. Uniting the field through a global platform requires a multi-stakeholder, multisectoral partnership of UN agencies, governments, donors, civil society groups, and academic institutes.
Find out how to get involved with World Drowning Prevention Day via the WHO  support website UN observances calendar and on Twitter with @georgeinstitute #DrowningPrevention