Recommendations for governments to tackle non-communicable diseases
The United Nations held its third High-Level Meeting on the prevention and control of NCDs on 27 September 2018. The George Institute for Global Health set out five priorities for governments to commit to tackling the rising burden on NCDs
Background
The first UN High-Level Meeting on NCDs in 2011 saw the signing of a political declaration in which multiple commitments on the prevention and management of NCDs were made by countries, multilateral agencies and donors.
At the second High-Level Meeting on NCDs in 2014, countries adopted a document which included four time-bound commitments. However, a WHO NCDs scorecard showed that by 2017, 83 countries had made poor or no progress on these commitments. India had achieved six of the 19 indicators, China and Australia eight, and the UK 13. No country has fully achieved all 19 indicators.
The Sustainable Development Goals adopted in 2015 include a specific target on NCDs: a one-third reduction of premature mortality from NCDs by 2030 through prevention and treatment, and the promotion of mental health and well-being. A December 2017 report from the UN Secretary-General found that the current level of progress is insufficient to meet this target, and that the world has yet to fulfil its promise of implementing measures to reduce the risk of dying prematurely from NCDs.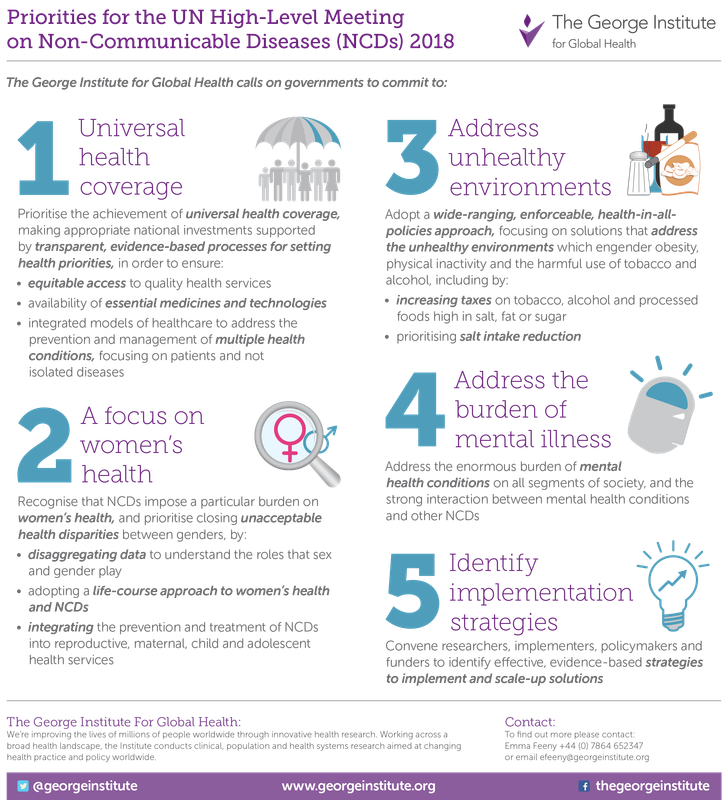 In addition to the five key priorities, read a detailed submission made by The George Institute to the WHO Independent High-Level Commission on NCDs in May 2018  (PDF 550 KB)
Take Action
Related Contact