Genovate internship: using tech to solve health challenges
"As someone who was focused on clinical research, it was extremely valuable to see how research is used to develop technology that can be scaled up to address key health concerns," says Cyril Saji, a third-year medical student at James Cook University, who has just completed his internship with Genovate. Genovate is The George Institute's innovation and entrepreneurship program.
The Genovate internship program was started in 2020 to provide a launchpad to early career researchers and those interested in health innovation by providing hands-on project experience to solve real world problems. Cyril is the program's seventh intern to date to have completed a 3-month placement with Genovate. Like his peers, he believes the program filled a gap that many medical students face in the industry.
         
"As a medical student, it is rare to find opportunities to look at healthcare beyond the clinical context – this internship gave me the chance to develop my knowledge of health innovation, technology and commercialisation and truly encouraged innovative thought and critical analysis - skills which are imperative to being an effective clinician," he says.
The Genovate internship gives the candidate an opportunity to work on a project spanning the wide ambit of The George Institute's portfolio. This can range from the Women's Health Program to Injury Prevention. Collaborating with a cross-functional team provides the interns with an opportunity to develop diverse skills sets and subject knowledge.
Cyril worked within the Institute's Global Brain Health Initiative where he co-developed a scoping review on 'New Technology Needs in Brain Health', focusing on technology to support post-stroke rehabilitation.
"This project was a wonderful opportunity to understand the scientific, regulatory and commercial aspects of technology development and investment," he says.
James Bradley, who has just started the Genovate internship, is also working on a project within the Global Brain Health Initiative. James is a fifth-year student at the University of New South Wales, undertaking a Bachelor of Engineering (Hons) and Science double degree. His passion is applying machine learning to solve medical problems.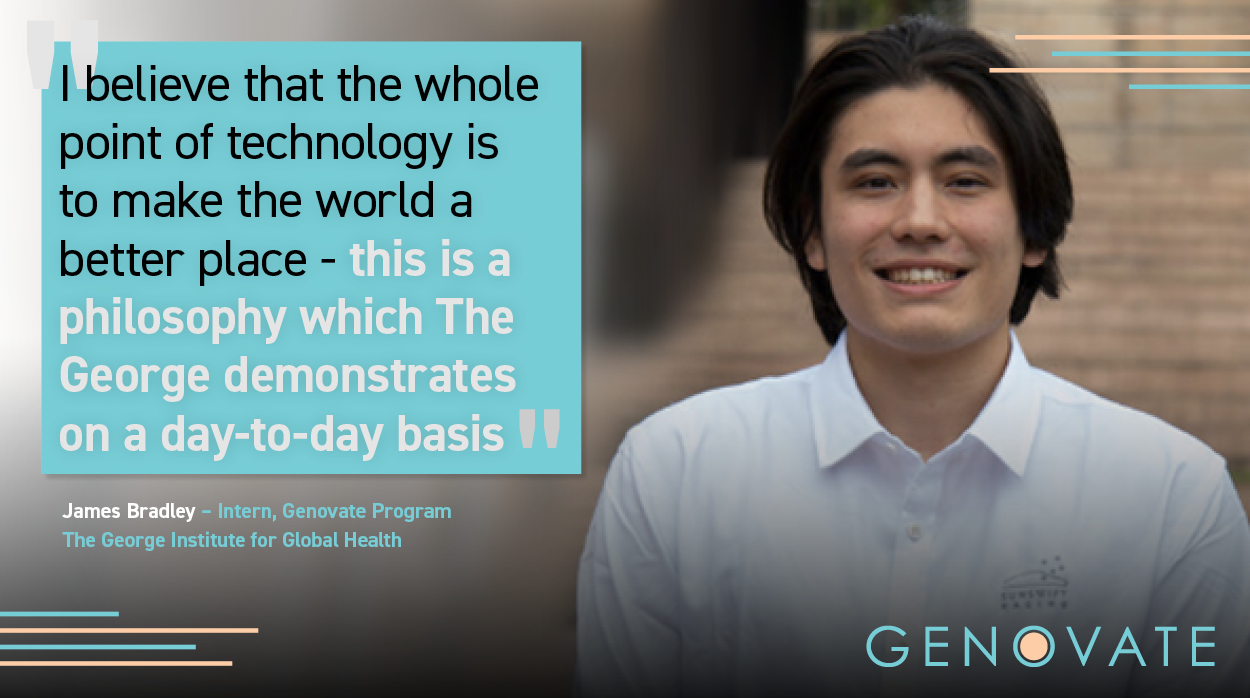 He says, "I'm currently working on the Deep Learning and Brain Imaging Project, where we are trying to develop a system to automatically segment haemorrhages in the brain from a CT scan. Usually, this is done manually by a radiologist or neurologist by directly outlining bleeds in a scan. Being able to detect haemorrhages quickly and measure their volume accurately is crucial in stroke patient management and clinical trials. Therefore, the ability to automate this process can have a significant impact on patient outcomes."
The George Institute's recently established Global Brain Health Initiative, under which both Cyril and James have worked, aims to tackle the serious issue of brain health and enable people to live better for longer. The progressive ageing of the world's population is associated with a steady increase in age-related diseases including dementia, Alzheimer's disease and other neurodegenerative disorders. The Global Brain Health Initiative is focused on developing innovative solutions to address these challenges, maintain healthy brain function throughout life and help improve the health of millions of people around the world. The Genovate program supports this mission.
As Cyril says, "Though health innovation is often pioneered and most accessible to the most privileged in society, it plays a vital role in supporting the delivery of care for socio-economically disadvantaged and low-resource communities and can be pivotal in addressing health crises in the future."

James adds, "I believe that the whole point of technology is to make the world a better place - this is a philosophy which The George Institute demonstrates on a day-to-day basis, making us a good match. Hence, being able to synergise my natural curiosity in this kind of technology with the ability to improve health care, made joining the Global Brain Health Initiative a no-brainer!"

"I would definitely recommend the internship to others who want to use technology for a larger cause – to potentially improve the health of millions of people around the world."
Find out more about the Genovate program and internship here.